Interview with Alex Benay, Canadian Government CIO
Last year, the Canadian government formulated a strategic IT plan, and the government's CIO, Alex Benay, is currently spearheading a leadership strongly committed to implementing digital transformation based on this new plan. Benay himself is a leader with impressive message-communicating abilities, including by regularly sharing information with Canadian citizens (users) on the progress of transformation in his own words. In our interview, we discussed the initiatives and challenges of the Canadian government in view of realizing the idea of "Government as a Platform."
Interviewer/Report: Chikako Masuda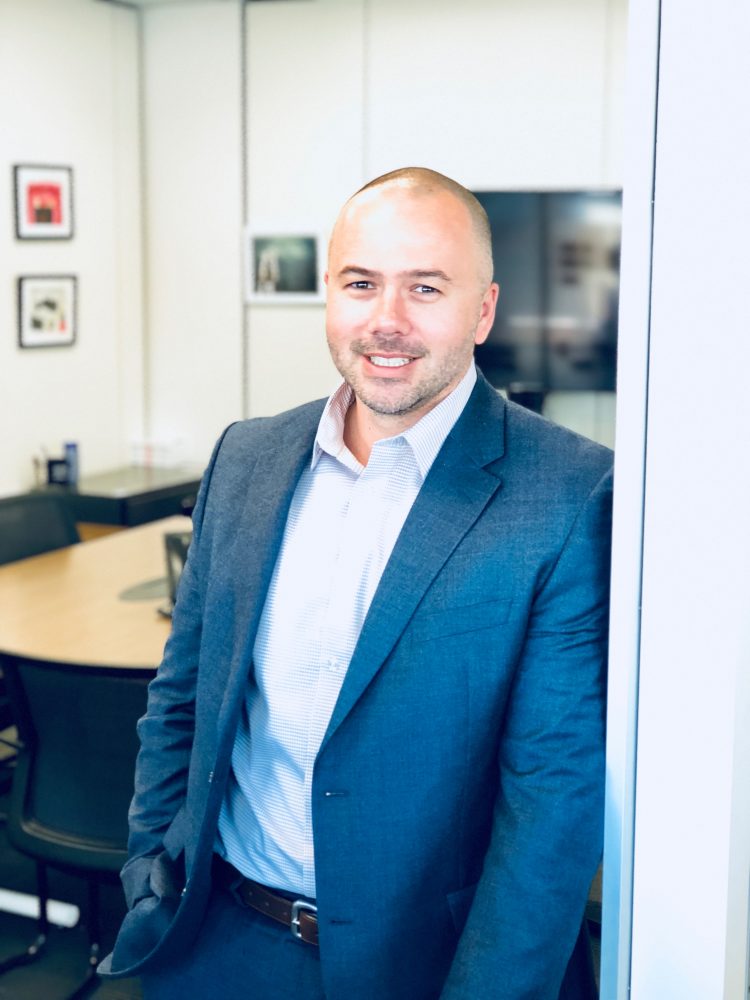 ―― What are the challenges faced by Canada's electronic government, or what challenges are you focused on as the government's CIO?
Benay: There are three challenges. The first I would mention is governance. In Canada's government, each ministry has invested in technology independently over the years. But each ministry working independently has, at times, resulted in multiple investment into the same technology or the use of mismatched technologies. I feel that the lack of a consistent view as a government has been a significant problem. Due to the lack of an overall architecture, I think the problem has been that the structure itself was not considered from the perspective of citizens, in other words the users. Although we invest some $6 billion a year on technology, our largest problem seems to be the lack of a consistent strategy
The second challenge, which has also been the one most focused on this year, concerns the data held by federal government ministries.
Although we have introduced a national government data strategy, no consistent governance has been put in place. Because of this, citizens have to register separately for each service provided by the different ministries. As a result, we have an ongoing redundancy situation with the same citizen data existing in each of the different ministries. This not only means that data not being shared between ministries, but the security aspect is also lacking with respect to the data held. These days, data is regarded as a new currency. That's how important of an asset it could be to a nation. This is also why we want to focus efforts on our data governance strategy this year.
The third challenge is the sharing of data between government administrations. Canada's government consists of three layers: country, province, and municipality. Each of these provide services to citizens, and integrating them is a formidable challenge given the massive size of our country. One of the problems, is that each of these layers collects the necessary data from citizens separately, but are still unable to either share services or data.
These three issues are the biggest challenges that we are facing now.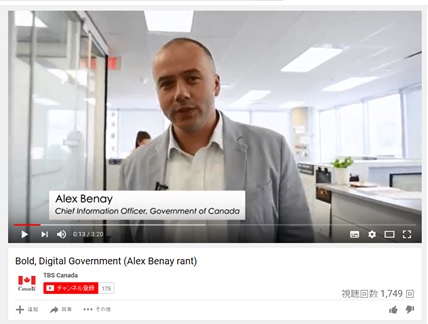 ―― What are you hoping to achieve through transformation? You also mentioned "Government as a Platform," but what is the basic vision of this?
Benay: We have declared a strategy to "invest in technology to provide services." We want the platform provided by the Canadian government to exist as a common open platform that can connect people to services from any type of device. There are a number of devices that exist. For instance, as typical mobility devices, cars; as wearable devices, watches; and as household devices, computers and even fridges. These devices will be connected to the platform provided by the government. We will also work towards connecting service providing partners―for example, the travel website Expedia, Amazon and such―to the platform. It will also have features capable of providing government services on the same platform. The government wants to provide a platform that integrates and provides all services providable to the public, including social services like these. For example, if you apply for or renew your passport on this platform, our vision is that it will also be capable of connecting to a travel agency to offer a wide range of services. But to realize this, the platform must be more open source, plug-and-play, and be connectible to from anywhere. We believe that it is necessary to realize an environment in which third parties are able to access data that exists on the platform.
―― How do you intend to carry out transformation?
Benay: When trying to drive transformation, the difficult thing is to change the culture of an organization. That is why it is important to start as small as possible. Each time a project is going to start, we communicate by sharing what kind of project will intend to start on Twitter and Facebook (see photo). And we share its concept. Since trying to start too big from the outset often ends in failure, our attitude is to take an approach of "start small and grow gradually." Another important point is that, for these small projects, we want to start out by only bringing aboard people who want to make a change. If we try to involve people who aren't willing to make a change, this will become a source of failure, so we want to start off with people that absolutely share the same mindset. Our approach is to start small and grow.
Next, with regard to how transformation is implemented; whenever a government-led project will be carried out, as a way to also ensure effective governance, we have a committee known as Enterprise Architecture Review Board that we always have review the project throughout the process. This committee has just recently been voted in. The Enterprise Architecture Review Board is a mechanism to get project approval after confirming whether the project is open source; whether data sharing is accepted by default; whether is uses the cloud or is it based on an API; and whether the architecture can be realized the form of plug-and-play.
―― Do you place importance on aspects such as Service Design Thinking or UX?
Benay: We consider these very important. IT development is a very time-consuming process. I'm sure it may take 5 to 10 years. As time passes, people tend to forget about the public and end up losing the public's sympathy. In other words, they start out by gaining public sympathy by talking up big plans, but I think are unable to maintain the initial level of enthusiasm. As time goes by, they end up turning their focus to the project schedule or to whether contract details are being properly secured. Then they end up prioritizing whether or not deliverables are being properly completed while forgetting about the citizens who are the actual users. To prevent situations like these, a team called the Canadian Digital Service, which consists of about 100 people, was established. This is a team for building digital services in a way that puts the public first. It was set up to perform essentially the same role as GDS in the UK. The Canadian Digital Service team holds hearings on user requirements when designing a project as well. Once people register their user information―namely the personal information of citizens (such as social security number and address), since services as well as ministries are different, the team will go ahead and define requirements that need to be shared in order to create an environment where citizens do not have to enter the same information over and over again. Since Canadian Digital Service is still a new organization just budgeted, we have no success stories as of yet. At this stage, the CEO has not even been assigned1. A team of around 20 people is currently researching how successful the US government's 18F and UK government's GDS have been.
* 1: At the time of the interview. On March 9, Aaron Snow, former executive director and co-founder of the US's 18F was appointed.
―― How are you utilizing advanced technologies such as AI, IoT, and blockchain?
Benay: As a strategy, we also attach importance on how to use of disruptive advanced technologies. Since a variety of services, partners, and devices are involved in government-provided platforms, we feel the existence of IoT is what will really make this possible, and intend to design based on that. The IoT field is expanding more and more, so we are also keeping it in our sights when developing platforms. The introduction of blockchain is also progressing in Canada. Although only as a trial, it has even started to be used by the Air Force. We have also been successful in using biometrics to share information with the Netherlands.
We are even using machine learning to formulate policies, and are working towards being able to provide services while applying these advanced technologies to visa applications.
Let me tell you about a small example of what we have achieved with disruptive technology.
The Canadian government is using artificial intelligence and machine learning to monitor public reaction on social media. In the process of planning government policies, the government is striving to use social media to gather public reaction. In fact, AI was being used to monitor how the public reacted during the G7 as well. We also gathered opinions from social media on what sort of topics should be discussed. We are using AI in formulating regulations and such, and also using blockchain to provide a ledger that can be trusted by companies. At the Immigration Bureau, we are using AI technology for visa applications.
―― Could you tell us about some specific past achievements in transformation, and what sort of results were obtained?
Benay: As far as specific achievements in transformation overall, the first thing I would mention is law revisions. We need to revise laws in a way that suits the technology utilization and digitalization. In Canada, we have legislation called the Access to Information Act, but this law has not been revised at all for about 30 years. This act determines how people are able to access personal information held by the government. However, not being revised for 30 years means that existence of the internet has not been considered. So, we needed to update this legislation. The act is being revised to offer an environment that allows citizens to easily access to their own data held by the government, and this revision is almost complete.
Next, there is a Financial Administration Act, which will be revised very soon. The role of a CIO is going to become as important as a CHR (Chief Human Resources) or CFO (Chief Financial Officer). Until now, digitalization was regarded as no more than something pursued by the back office, but it will go beyond the back office to become legislation that incorporates the activity of using digitalization to standardize service provision itself. Revision of the act in ways that take digital matters into account will be completed in just a few weeks.
Next, I'd like to tell you about a service realized by putting governance and legislation in place. In Canada, Old Age Security payments are provided to people once they turn 65. In an environment where digital technology can be used, about 60% of 65-year-olds would be able to receive monthly payments automatically without needing to submit a paper application. In other words, even without applying, individuals will become able to automatically receive payments when they turn 65 since as a result of three requirements being put in place: (1) the government is effectively managing citizens' information, (2) governance is working, and (3) legislation has been established. If you're wondering where the 60% figure comes from, it is because some people still want to submit paper applications, which leaves some challenges, but that is the figure at this point in time. Still, in the future we would like work towards making payments automatically possible in 100% of cases.
As another example of digitalization, Canada has been conducting a census once every four years, but now 70% of people are able to complete them online. Even paper-based censuses are digitized.
Finally, I would like to talk about some aspects of Government as a Platform. In Canada, each province including British Columbia is beginning to provide digital IDs on a provincial basis. By using the IDs of each province, people are able to receive government services. Because the provincial and government platforms are connected, the services of each can be used with a single ID. I think this will be a success story made possible specifically by putting in place the technology, governance and legislation.
―― Are there any successful cases of using a partner (third party) on a government platform?
Benay: The Canadian Revenue Agency (tax office) has realized a system that allows income be declared using software provided by third parties. When submitting, citizens can use tax processing software called TurboTax or Intuit to automatically complete tax returns.
―― What are some of the future challenges and prospects?
Benay: I would say that the biggest challenge is to change the culture. With some 17,000 computer scientists, data scientists, information management technicians, and security staff in the Canadian government, it faces the extremely difficult challenge of changing the culture in such a way that everyone feels the same way about driving reform forward. No question, our biggest challenge is to change people's mindset to do things differently than before, and build up this culture. As for future prospects, we would like to continue to move towards open source and connect even more solutions with a platform provided by the government. Since we are working with D7 countries (UK, Israel, Estonia, South Korea, New Zealand, Uruguay, and Canada) to shift to open source solutions, we hope to share even more information with them. We ambition is to promote open government, release data, and realize a venue where more partners can leverage the platform to provide better services.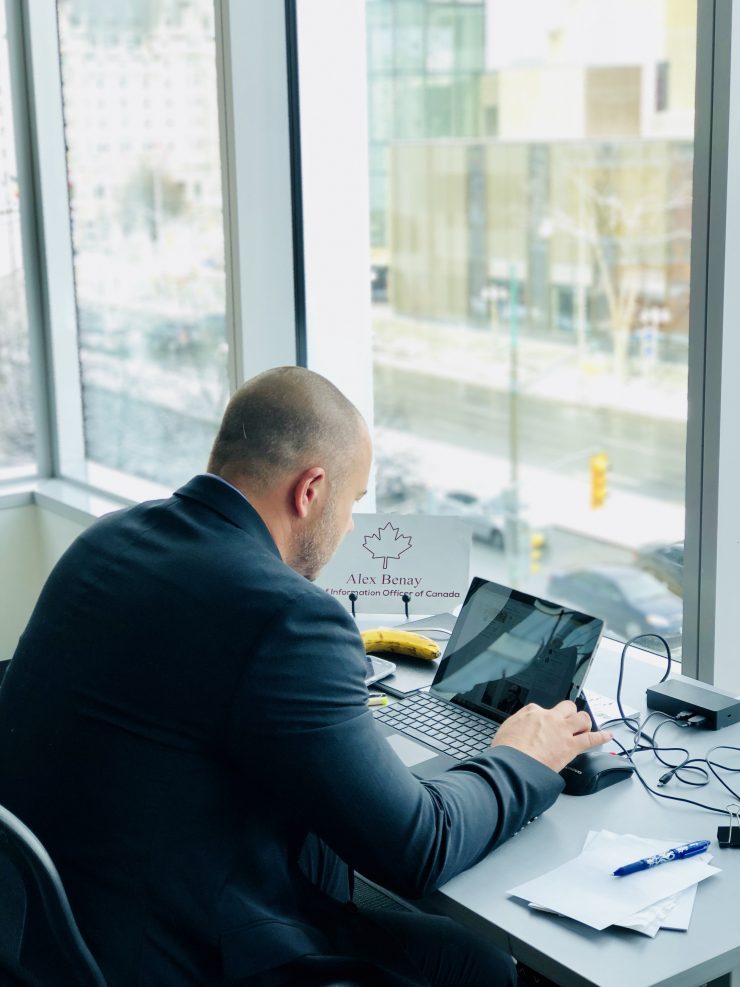 ―― Lastly, do you have a message for our Japan readers striving to implement Digital transformation?
Benay: Change is difficult and never-ending. Often, just as you think change is complete, something changes in the world situation or a technological trend. It is important to continue efforts on an ongoing basis. There is no end to the challenge of change.
If there is anything the Canadian government can do to help the Japanese government, please feel free to call on me at any time. I would like to wish everyone good luck.
Alex Benay
After working with various teams and in program management at the Canadian International Development Agency; Department of Foreign Affairs, Trade and Development; Natural Resources Canada; and Library and Archives Canada, Benay served as Vice President of Government Affairs and Business Development at OpenText from 2011 to 2014, playing a leadership role in Canada's digital industry. He also promoted the global shift to digital in organizations such as the G20, Commonwealth Secretariat, and the Olympic Committee. In 2014, he became President and Chief Executive Officer of the Canada Science and Technology Museums Corporation.
In April 2017, he was appointed Chief Information Officer (CIO) of the Government of Canada.